Mutual fund investing can be done in two ways.
One is the active style of investing where a fund manager fishes for the best stocks to buy and hold and generate profits for the investors. As you can imagine, this requires expertise, time and tools  all of which cost a lot of money to the investors.
The other is the more boring style called passive investing where a mutual fund can simply track a benchmark index. This is the approach followed by index funds.
But should I invest in index funds in India at all ?
How do index funds work ?
Index funds try to ape a benchmark index by investing in only those stocks that the benchmark holds. Since the benchmark has a lot of stocks and each stock has some percentage in the total portfolio, the portfolio of an index fund is also allocated in the same way as the benchmark.
To explain with an example, the BSE Sensex has 30 stocks in it and each of those have some percentage space. A mutual fund created to track the Sensex and having the same stocks in the same proportion as BSE Sensex will qualify to be called an index fund.
Similarly, you can have index funds that track the Nifty or for that matter the other indexes we have.
Advantages
The following are the advantages of index funds.
They are very easy to understand : If you know the 30 stocks of the Sensex, you know exactly what the constituents of your index mutual fund tracking the Sensex is. With actively managed funds, this is a challenge as the constituents keep changing every now and then.
Their returns are always in line with the benchmark index : So as compared to actively managed funds where a fund manager is working consistently to generate returns for you, the probability of going wrong with investment decisions is less. If the benchmark generates less returns, you get less and if it returns more, you get more.
Their costs are lower : Since the investment style is passive, index mutual funds do not have higher fees for trade analysts and fund managers – there is less churning !
Tracking error
While index funds are meant to track a benchmark index to the last bit, actually they don't. Many funds end up tweaking the percentage allocation of holdings of the stocks.
Naturally, when you do that, the index fund's composition is no longer same as the benchmark and if that is the case, the returns will also be different. Because of the changed composition, trading costs and fund management charges also vary.
Because of the above, the difference in return between the benchmark and the index fund is called tracking error.
The less the tracking error the better it is.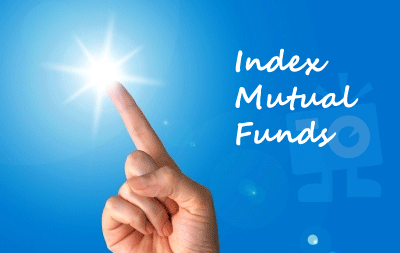 Who are they meant for ?
Simply put, index funds are for the laid back investor. For beginners who have just started doing their financial planning and learning about investment avenues, these can be a good stepping stone.
Does that mean that they are not meant to find a place in everyone's portfolio ? Well, if you go by the book a "A random walk down Wall street", you will be convinced they need to be in your portfolio. But the issue really is that the logic holds a lot of ground in Unites States. In India, index funds paint a different picture.
Though their costs, measured by something called expense ratios, are comparatively less, they have not managed to generate returns more than actively managed mutual funds. There are some which actually generated less than their benchmark !
The expense ratio of such funds vary from 0.25% to 1.5%. Now 1.5% is huge ! I would not want to pay such a huge expense ratio and expect meager returns.
If you cast a quick eye on the returns of such funds from the table below (Options in India), you will realize that only one fund, HDFC Index Fund has given more than 15% returns and then you have a handful of them at around 11.00%.  But look at the screenshot below which shows that all kinds of actively managed equity funds have given a minimum of 12.60% in the last 3 years.
Now with that kind of return difference, I don't want to even compare the expense ratios as it is a done decision.
I think actively managed mutual funds are a better option !
Options in India
Here are the list of such mutual funds in India. The 3 year, 1 year, 6 month, 3 month and 1 month returns are indicated as well. Take your pick.
Rank
Scheme Name
Performance of Index Funds in India
1 Mth %
3 Mths %
6 Mths %
1 Yr %
3 Yrs %
1
HDFC Index Fund – Sensex Plus Plan
-3.80
-3.25
-3.10
-5.82
15.64
2
IDFC Nifty Fund – Growth
-4.43
-4.33
-3.64
-6.34
N/A
3
Reliance Index Fund – Nifty Plan – Growth
-4.56
-4.57
-3.70
-7.29
N/A
4
ICICI Prudential Index Fund
-4.40
-4.76
-4.23
-7.54
11.97
5
LIC Nomura MF Index Fund – Nifty Plan – Growth
-4.46
-4.59
-3.95
-7.57
10.74
6
Tata Index Fund – Nifty Plan – Option A
-4.51
-4.45
-3.96
-7.75
11.34
7
PRINCIPAL Index Fund – Growth
-4.59
-4.71
-4.05
-7.80
11.35
8
Canara Robeco Nifty Index – Growth
-4.54
-4.77
-4.17
-7.84
11.41
9
SBI Magnum Index Fund – Growth
-4.56
-4.76
-4.30
-7.96
11.43
10
Tata Index Fund – Sensex Plan – Option B
-3.74
-4.36
-4.17
-8.09
8.04
11
Franklin India Index Fund – NSE Nifty Plan – Growth
-4.55
-4.99
-4.38
-8.13
11.53
12
ICICI Prudential Nifty Junior Index Fund – Growth
-6.47
-1.09
-2.44
-8.19
N/A
13
IDBI Nifty Index Fund – Growth
-4.58
-4.80
-4.32
-8.35
N/A
14
UTI Nifty Fund – Growth
-4.55
-4.82
-4.31
-8.37
11.10
15
Birla Sun Life Index Fund – Growth
-4.61
-4.95
-4.59
-8.59
10.75
16
LIC Nomura MF Index Fund – Sensex Advantage Plan – Growth
-4.29
-4.53
-4.11
-8.60
11.58
17
LIC Nomura MF Index Fund – Sensex Plan – Growth
-3.78
-4.51
-4.43
-8.60
10.78
18
HDFC Index Fund – Sensex Plan
-3.81
-4.57
-4.40
-8.71
10.71
19
IDBI Nifty Junior Index Fund – Growth
-6.70
-1.02
-2.69
-8.78
N/A
20
Tata Index Fund – Sensex Plan – Option A
-3.80
-4.54
-4.53
-8.80
11.14
21
HDFC Index Fund – Nifty Plan
-4.50
-5.09
-4.63
-8.81
10.19
22
Franklin India Index Fund – BSE Sensex Plan – Growth
-3.84
-4.80
-4.79
-8.86
11.45
23
Reliance Index Fund – Sensex Plan – Growth
-3.76
-4.36
-4.26
-8.93
N/A
24
Goldman Sachs S&P CNX 500 Fund – Growth
-5.06
-3.51
-4.07
-9.00
11.53
25
Taurus Nifty Index Fund – Growth
-4.49
-4.72
-5.56
-9.83
N/A
*Note:- Returns calculated for less than 1 year are Absolute returns and returns calculated for more than 1 year are compounded annualized.
Source – mutualfundsindia.com
Do you hold any ?