Education costs in India are rising and we all need to save more and more money for our children's education. We all know that but I was taken aback to read in the dailies how much the costs had increased over the past few years !
While the cost of educating a child till the 12th standard and beyond that (read graduation) is something which a parent definitely needs to fund simply because the child does not have the monetary capability to do so, a lot of debate has gone into whether funding a child for post graduation makes sense.
Let us see some numbers to check how huge this task is and whether you can save money for your child's education or not.
Cost of higher studies
The MBA is the most sought after post graduation course after your child completes graduation. MBA can be done from a rung of second and third tier colleges. But if you want to get your child educated from the cream of the MBA colleges, the Indian Institute of Managements (IIMs) are the place to go.
The Economic Times reported that the fees of doing an MBA from the IIMs have increased in the last few years. What was scary to note was the percentage increase for this year.
IIM Calcutta had a fees of Rs 4 lakhs in 2009 which was Rs 13.5 lakh for 2012 and has moved to Rs 13.5 lakh for 2014.

IIM Bangalore had a fees of Rs 5 lakhs in 2009 which was Rs 13 lakh for 2012 and has moved to Rs 15 lakh for 2014.

IIM Ahmedabad had a fees of Rs 4 lakhs in 2009 which was Rs 14.5 lakh for 2012 and has moved to Rs 15.5 lakh for 2014.
For me, that sums is all ! The percentage increment in cost this year is depicted below.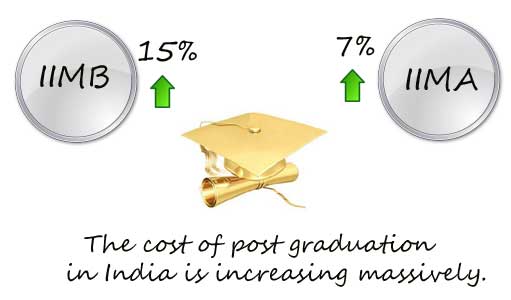 The main reason for the cost increase is said to be infrastructure costs after intake of more students under quota registration.
Whatever be the reason, this lead to two questions.
What inflation rate would you assume for post graduation costs ? Can it be consistent ?
How much per month do you need to save money for your child's education ?
How much to save each month ?
I have tried to paint scenarios of how much you will need each month for 3 inflation rates.
Here is the one at 5% and as you can see, depending on how many years away the post graduation will happen – the per month savings range from Rs 4,000 to Rs 10,500 approx. This money saved each month at 12% rate of return will help you save for your child's post graduation.
At 5% inflation rate
The savings required at 7% inflation rate are between Rs 5,800 to Rs 12,800. Notice how an increased inflation rate requires more money to be saved each month. That is what the monster called inflation can do to your financial planning.
At 7% inflation rate
And at an inflation rate of 9%, you need between Rs 8,500 to Rs 15,400 to save for your child's education.
At 9% inflation rate
So the question now is, can you afford to save for the best of the education for your child ? This is a huge amount by all means and with other important goals like saving for graduation and marriage for the child and your own retirement, do you think you can achieve this at all ?
Where should we invest the savings each month ?
As I have assumed that the post graduation is a minimum of 10 years away from today, obviously this translates into a long term financial goal. So if you follow goal based investing and believe in long term investing, you know by now that systematic investment planning in diversified equity mutual funds will help you achieve the target.
Make sure that as and when you near your goal, you move away from equity and park the money into safe investment avenues like debt. Be sure to monitor the progress of the investments each year otherwise you will see your corpus deplete in case of a stock market crash in case you are fully invested in equities.