Have your emotions become over riding decisions for your investments ? In 2011, when the stock market was going down south, did you buy or did you sell ? If your investment decisions were based on sound principles, then you might be on a strong footing as far as your financial planning goes but if they were based on decisions driven by your heart, you might be one of those who takes emotional investment decisions.
Behavioural finance is a subject of intense discussion especially in the field of stock market. History has demonstrated that every time there is more money to be made or lose, the decision has been made by the heart and not the head.
Emotional issues and investment behavior
Only a very small percentage of investors do their own research when it comes to buying a stock – all the others either listen to their colleagues who recommend tips or to TV channels where paid news find its way each morning.
Careful thought needs to be given to the source of the information. In the above case, both cannot be relied upon, yet one buys because someone else did. The thought process here is – both of us will either make tons of money or go down together – I am not alone !
Investment logic takes a back seat and emotions drive investment decisions.
A stock's past performance and stupendous growth always sticks to one's mind. After forming an opinion about an investment, investors seldom change it. Even though there is new information that can be critical to the performance of the stock in the long run, it is overlooked.
So Reliance Industries and Infosys made millions for many investors over the last 10 years but they cannot continue to keep doing that consistently year on year. Yet investors are convinced that any under-performance by companies will not impact their stock price as it was a gem historically. So they don't sell or get out of the counter and over a period of time, the stock price falls in value eroding the corpus.
Investors get attached to investments and even to products – to our house, car or even our cell phones  and we end up holding the investment or the product longer than we should. They begin to value things they possess, even if that investment or product, holds little value.
I had a client recently who came to me with a stock portfolio and said he needed me to get rid of stocks in such a way that his portfolio could return 25% each year – of the stock he wanted to retain, his argument of the case was that they had performed well in the past, many of his friends had it and they were big companies. My argument was – so was Lehman and Satyam once upon a time. My client was married to his investments !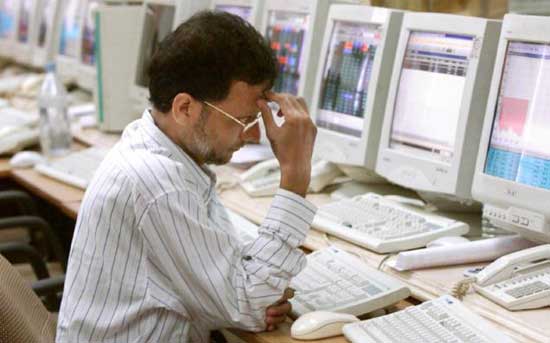 Consider losses that you are sitting on today. You are probably not selling because you think the losses are very huge. Your inaction is not going to move the stock up in the next quarter or year – for all you know, the ticker will only go down. Losses hurt and investors cannot stomach that and so they hold on thinking they will make up for their losses in due course of time !
Same is the case with profits. You might have set a target price for the stock when you bought it but then when it reaches that figure, emotions take over and you think you might have set the target price too low. Greed takes over and you think there is more moolah to be made. You don't sell and then one fine day, the price crashes to such an extent that you lose whatever you were making.
When the market is on an upswing, you believe in your stock picking capabilities and end up buying more units. The fallacy here is that you are buying high. Should it not be the opposite ? You need to probably sell some units of the stock to make profits or bring your asset allocation back on track.
Investors also don't want to tread on things they cannot understand and either disregard that piece of information or discount it.
Honestly, investors won't change their biases very quickly so they need to adopt some strategies to get in and out of stocks. Will power and the ability to stick to targets is what will drive overcoming such biases. So when you buy a stock, set a target and sell when you reach that. Put triggers on the downside so that if the price crashes, you can get out to limit your losses.
Last but not the least, picking the right stock is something which is a huge field and I don't think many of us can master it in a lifetime, so know the risk of investing on tips and use the above buy and sell strategy to invest in stocks.
Take a poll on emotional issues and investment behavior.