The new Direct Tax Code (DTC) will come into effect on April 1st 2012. DTC is meant to replace the Income Tax Law 1961.
By the time the implementation of the DTC begins, we would have enough time to be excited and subsequently forget the impact of DTC on our income tax slab. This is first in a series of articles talking about the various impacts DTC will have on our savings , investments. and financial planning.
Let us look at the impact of new income tax slabs under direct tax code.
Let us first see a snap shot of the current income tax slab. For clarity, I have attached the tax slab details for Assessment Year 2010-2011 and 2011-2012. Note that a 2% primary/secondary education cess and a 1% higher secondary education cess is levied over and above the below mentioned tax rates.
Now, the DTC has bumped up the tax slab. The current taxation of 10% now covers a new tax slab of Rs 2-5 lakh, 20% covers the tax slab of Rs 5-10 lakh and 30% covers above Rs 10 lakh. See below table for more clarity.
This translates to :
income tax of Rs 30,000/- for persons under 65 years of age and Rs 25,000 for senior citizens for income up-to Rs 5 lakh.
income tax of Rs 1,30,000/- for persons under 65 years of age and Rs 1,25,000 for senior citizens for income up-to Rs 10 lakh.
What is significant is that the DTC bill does not differentiate between gender now, men and women will now be taxed at the same rate. The only line drawn is across age where in senior citizens are put in a favorable tax slab.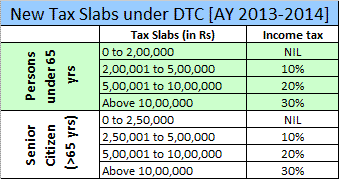 What savings does this lead to ? Let us take some salary ranges and check. In the example given below, the total tax liability under DTC and the present tax laws is shown.
For a salary of 5 lakhs, under the present income tax slab, the total tax liability for a male under 65 years of age is Rs 35,020 while under DTC this figure will be Rs 30,000/- –> this translates into a savings of Rs Rs 5,020.
For a senior citizen, the savings will be of Rs 1,780 for the same parameters. If you were to take a taxable salary of Rs 20 lakh as example, the total tax liability for a male of under 65 years under current laws will be Rs 467,620. The same figure under DTC will be Rs 430,000 – this is a savings of  Rs 37,620 !
Note that there is no cess of 3% in the DTC. The savings calculations include the 3% education cess under present tax laws.

Here is how the savings will look like under DTC for the above six salary ranges :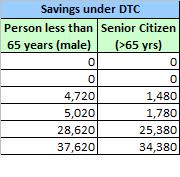 The DTC tax slab leads to tax savings for all concerned.
Note that this article talks about the tax savings that arise due to the introduction of the new tax slabs in DTC. Readers should not interpret this to mean that the overall impact of  DTC on a person's tax liability will lead to savings.
It looks like the DTC bill is in shambles after the first version was out which promised more savings than what is currently proposed today. We have probably frittered away the chance to make significant changes to our tax rules. Till the current DTC is implemented, stay tuned to discussions and rantings galore.